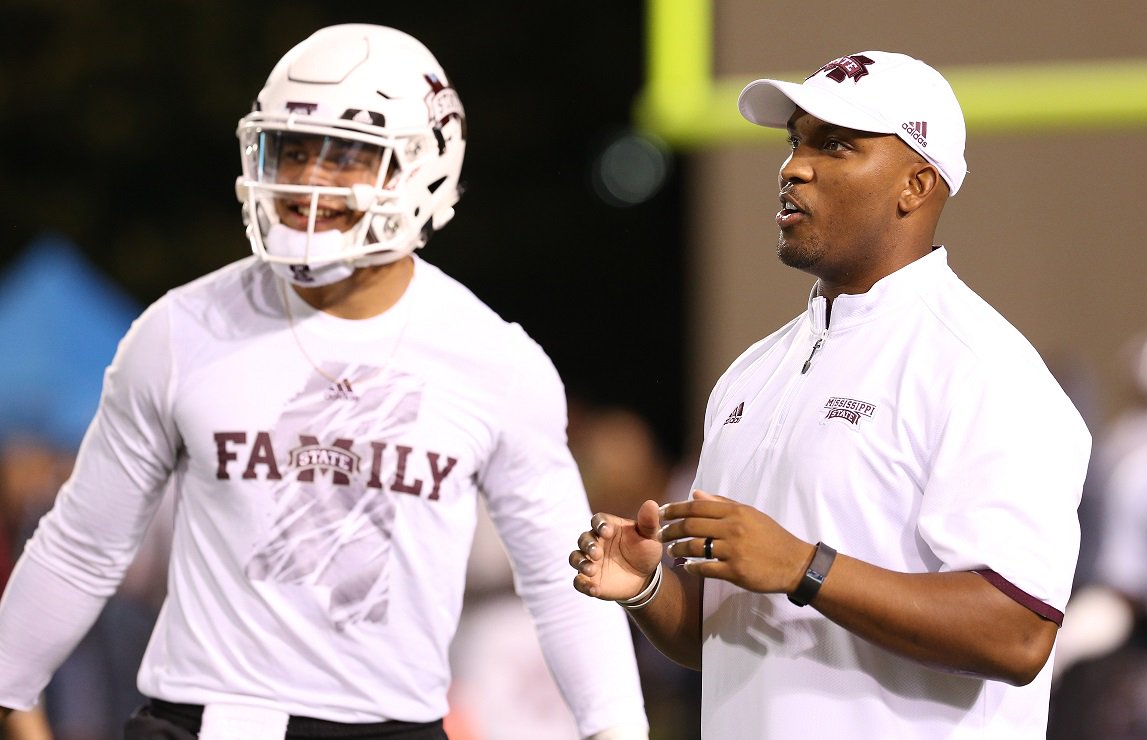 New Houston Cougars head coach Major Applewhite made probably his strongest assistant coaching hire to date, naming Mississippi State quarterback's coach Brian Johnson to the offensive coordinator position at Houston.
A Strong Coaching Tree
This is an interesting hire on several fronts: The primary reason is Johnson is from the same coaching tree as Tom Herman, meaning he'll likely keep the Coog offense very similar to what we've had the past two seasons. Originally recruited out of Baytown, Texas by Urban Meyer back in 2004 to play quarterback for Utah, Johnson would take over the Utes starting quarterback from Alex Smith. The Utes went undefeated in 2004 and Smith was tutored by Meyer into the NFL's #1 draft pick for 2005. Meyer and his quarterbacks coach Dan Mullen left for the University of Florida after the season.
Meyer and Mullen would bring their Spread-Option offense to Gainesville where they'd win a national championship in 2006 with Chris Leak under center and future Heisman winner Tim Tebow seeing time off the bench at fullback. Tebow would later quarterback the Gators to another national title in 2008 and Dan Mullen would later take the head coaching job at Mississippi State in 2009. At State, Mullen would coach Dak Prescott into one of the best quarterbacks in college football and Dak has been one of the NFL's best quarterbacks this season, filling in for the injured Tony Romo for the Dallas Cowboys.
Urban Meyer would eventually leave Gainesville and take the head coaching job at Ohio State in 2012. Meyer hired a then-unknown Iowa State offensive coordinator by the name of Tom Herman to serve in the same role with the Buckeyes and Herman would eventually coach Braxton Miller, JT Barrett, and Cardale Jones to the 2014 national title. Herman would take over the University of Houston head coaching position and hire current UH head coach Major Applewhite to coordinate his offense.
After Meyer left Salt Lake City for Florida following the 2004 season, Kyle Whittingham was promoted to the head coach role at Utah. Whittingham would coach Brian Johnson to be one of the best quarterbacks in Utes history and Johnson would pass for 7,838 yards and 57 touchdowns in his four seasons under center. Johnson also led Utah to another undefeated season in 2008 and an upset over #4 Alabama in the Sugar Bowl. At the young age of 23 in 2010, Johnson was named quarterbacks coach at his alma mater under Whittingham. In 2012 Johnson was named offensive coordinator of the Utes just two weeks shy of his 25th birthday becoming the youngest coordinator in the FBS. In 2014 Johnson reunited with his former coach Dan Mullen in Starkville to take over the Bulldogs' quarterbacks coaching position where he'd mentor Dak Prescott and Nick Fitzgerald, the latter led the SEC in total offense and rushing yards for quarterbacks this season. Johnson had been demoted from OC back down to QB coach at Utah but the Utes have had a lot of instability over the years at their OC role, so it's likely not too much of a red flag. Several Utes and Bulldog fans online seem to hold Johnson in high regard.
Evolution of an Offense
From Yeoman's Veer, to the Run and Shoot under Pardee and Jenkins, to the Air Raid under Art Briles and Kevin Sumlin, the Houston Cougars have long been known for having a potent, high-scoring offense. Tony Levine started the evolution of the Cougars' next generation offense but couldn't quite get things to gel in spite of the personnel he recruited. Levine burned through three coordinators in three seasons which likely led to some terrible losses and his eventual dismissal. Tom Herman was able to take the raw potential of the Houston squad, install his Smashmouth Spread offensive scheme, and crank the Coogs up a notch to 13 wins his first season and a win over Florida State in the Peach Bowl.
Applewhite hiring Johnson to take control over the Houston offense is further proof the Air Raid is long gone on Cullen Boulevard. Gone with it are 60-59 shootouts and a comical lack of defense. For all of the hype and records shattered during the Keenum era, Sumlin never won a conference title because his teams always folded as soon as they got smacked in the mouth. The Air Raid served its purpose putting butts in the stands and getting the Coogs some attention, but Herman proved it was time to evolve and win some championships. Former Houston offensive coordinator during the Keenum era, Kliff Kingsbury, is running the Air Raid offense as the head coach up in Lubbock and the Red Raiders had the #1 offense in the country last season. In spite of having a potent offense that passes for 5,556 yards, the Red Raiders had literally the worst defense in college football, ranked #128 in all FBS. All of those gaudy offensive stats are useless when you go 5-7.
When Tom Herman moved to Houston he brought Meyer's Smashmouth Spread that had evolved out of the Spread-Option at Ohio State and installed it on Cullen. By having a quarterback under center in Greg Ward Jr. who can beat you with both his arm as well as his legs, as well as bruising running backs like Kenneth Farrow and Duke Catalon, the Coogs became a much more well-rounded offensive unit. Even though the overall numbers were tapered down from the Air Raid and Run and Shoot eras, the Smashmouth allowed the Cougars to win big time games late in the season when opposing defenses are playing at their best. The Coogs won a conference title and a NY6 bowl game under Herman and Applewhite in 2015 and also had stunning upsets over Oklahoma and Louisville in 2016. Also, with the Smashmouth not moving the chains as fast as an offense does with the Air Raid and Run and Shoot, the Coogs defense was able to get enough rest on the sideline during games and become one of the biggest reasons for UH's success under Herman… as opposed to being a huge liability like it was during previous decades.
Continuity
If you liked what Tom Herman did in his two years on Cullen then be excited for the Applewhite Era. Applewhite, being an offensive coach himself, could've easily scrapped the offensive system Herman brought in. Instead, Applewhite brought in Brian Johnson from the same Urban Meyer coaching tree to keep the offense rocking and rolling. Lane Kiffin and Les Miles would have likely changed up the Coogs' offensive style if they would've gotten the head coaching position, so the Applewhite/Johnson combo seems to be a smart way to maximize the potential of the current roster and keep the momentum rolling. Johnson, like Applewhite in 2006, was at one point the youngest coordinator in college football and also brings Power 5 experience from two programs: Applewhite at Alabama and Texas, Johnson at Utah and Mississippi State. We've come a long way from picking our coordinators based off of Wikipedia articles and who are one year removed from Division II.
It'll be interesting to see if one of the dual-threat quarterbacks on the Houston roster, like D'Eriq King or Kyle Postma, ends up winning the starting job or if one of the pro-style guys like Kyle Allen or Bowman Sells can thrive in the run-heavy offense. Applewhite and Johnson will have their work cut out for them in finding a new starting quarterback as well as recruiting more depth at offensive line and running back.
I'm excited for this hire and I can't wait to see how the rest of the coaching staff fills out. August kickoff can't come soon enough!