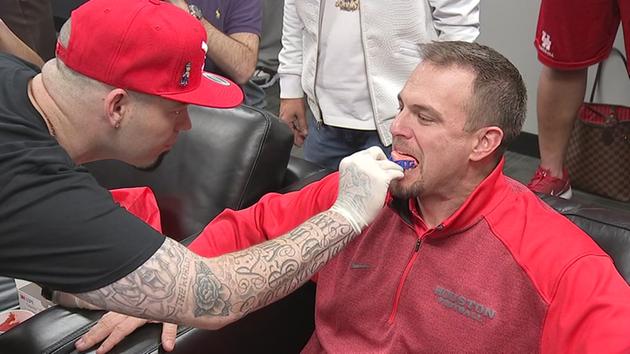 Tom Herman coaching at the University of Houston is like dating a really hot girl and everyone expects her to leave you for someone else. At first other people are coming up to you saying, "Hey, she's way out of your league." and you laugh and say "Thanks!" But then people keep saying it and are openly discussing her leaving you for someone else in front of you like, "She's totally going to dump him and be married to a 6'4″ doctor one day", and you give a forced smile and don't say anything out of politeness. Instead of them just letting you two be a happy couple and enjoying your time together they're still openly trying to get your girlfriend to date someone else after nearly two years. I mean, you weren't the prom king or the starting quarterback but you think you're a decent catch and you got a good-ass job and why can't people just be happy for you?
Other people aren't used to you being viewed as successful or getting any recognition and are now naturally jealous of your success, so you can't enjoy your newfound success without other people trying to knock you down to their level. Bunch of got damned crabs in a bucket. I mean, even if nobody else realizes how good of a catch you are, you know that there's got to be other attractive women out there who finally see your potential, even if miss ex-prom queen leaves you for the starting-quarterback-turned-pediatrician after all.
That's how it feels as a Houston fan with Tom Herman as our coach: Nobody outside of our fanbase is really happy for our success and they can't wait for Tom Herman to leave us for another football program. Everyone can't stop telling us how our program will immediately fall off, never mind that three of our last four coaching hires were Art Briles, Kevin Sumlin, & Herman and we're likely to find another kickass replacement if Herman left.
It's like people think Houston football didn't start until 2015. Forget the Bill Yeoman era and the veer offense, or the Run and Shoot, or Andre Ware's Heisman Trophy, or multiple Southwest Conference titles, or Kevin Kolb and the Art Briles air raid offense, or Kevin Sumlin turning Case Keenum loose so he could morph into the greatest statistical quarterback in college football history. Nope, none of that happened.
Don't Forget How Strong UH's Leadership Is
Tom Herman didn't hire himself: He was either hired by former UH AD Mack Rhoades or the well funded UH boosters (depending on whom you believe) but the point is it takes strong leadership and football acumen to hire a Tom Herman in the first place. Rhoades left Cullen Boulevard but his deputy Hunter Yurachek is now our Athletic Director and has done a very good job continuing Houston's successes while in the top spot. Yurachek has particularly been instrumental pushing for improvements in Houston's athletic facilities and increasing UH season ticket sales.
In addition to Yurachek, the university has an extremely powerful booster in Tilman Fertitta who also serves as the Chairman of the Board of Regents. Fertitta has been very vocal putting the university on the map and the world's richest restauranteur now has his own national tv reality show which he can use to promote the UH brand to the rest of the country. I wouldn't be shocked if Bauer and the Wolff Center (both of which this author is a graduate of) saw an increase in applications from around the country after watching Billion Dollar Buyer.
Last but not least, President and Chancellor Renu Khator has been the single biggest reason the University of Houston has gone from a little respected commuter school to having the second highest number of students living on campus in Texas and also being a Carnegie Tier 1 university (were you aware UH is Tier 1?). The campus and university is so drastically different than when I was a freshman in 2004 it's astonishing to really think about it. The biggest change is the level of respect us Cougars have for ourselves and the rest of the city has for us compared to before Khator was hired in 2008. I'd be far more worried about UH's future if Khator left than Herman.
The Cold Reality
The cold reality of the college football world is this is a business. One where head coaches make millions of dollars and have agents that take a percentage of the value of the contract as opposed to a flat fee. When a coach like Les Miles or Charlie Strong could be fired or even on the hot seat then every coach knows they're only as good as their last win. They're going to try and accumulate as much money as possible before they burn out and/or flame out. For every Urban Meyer there's fifty Ron Turners. Gotta stack that paper while your name is still hot.
That doesn't mean I think Herman is automatically out the door, I doubt even he knows what he's going to do. Likely he's staying silent and giving the same generic denials because his agent will be able to play hardball and increase his salary after this season. It's up to UH and Fertitta to open their pocketbooks and match any offer, which they're rumored to be working on right now.
It would be hilarious if Herman was remaining silent on the coaching rumors to create instability in our rival programs. Herman is now good enough that UH is recruiting against the Texas' and LSUs of the world (Ed Oliver was not an outlier; he's just the beginning) for many of the same players. It behooves Houston for neighbors like LSU and Texas to think they have a chance at hiring Herman and to create instability in their 2017 recruiting commitments. Let them fire Les Miles because they think they can hire Herman and then eventually settle for a washout like Lane Kiffin once Herman signs the inevitable extension in a few weeks.
The Grass Isn't Always Greener
I do have no doubt that Herman and every other coach in college football has a slight uneasy feeling about what just happened to Les Miles at LSU. Don't forget Miles was 114-34 in Baton Rouge with a national championship and was just canned midseason after several months of indecision from Athletic Director Joe Alleva. They're also watching how various people with the University of Texas are anonymously trashing Charlie Strong through the media when he's only four games through his third season in Austin. UT is a great job and Strong has been giving the Horns a much needed makeover but the batshit crazy expectations of fans and boosters will have him out before his first recruiting class even makes it to senior year. This isn't an Ellis Johnson situation, Strong still knows how to coach. Strong, like Herman, is an Urban Meyer disciple and I have no doubt he'll give Herman the inside scoop about the backstabbing if he feels UT behaves scummy over the next few months.
The University of Michigan couldn't wait to get rid of Rich Rodriguez after three years and ended up with Brady Hoke. Notre Dame ran off Tyrone Willingham because they thought they could hire former assistant Urban Meyer from undefeated Utah and ended up settling on Charlie Weiss when Meyer rightly decided to stay away from the insane boosters and unrealistic expectations in South Bend. Patience is a virtue.
Just because Texas, LSU, and Southern Cal have more money and are bigger programs than Houston doesn't mean they have stable, competent leadership to guide their programs towards national championships. Many close watchers of the LSU program are embarrassed about the total mismanagement displayed by athletic director Alleva. Why would Herman want to get involved in that? Austin isn't any better considering UT's athletic director is a Houston attorney named Mike Perrin. Perrin is in the middle of many power struggles within the UT campus and likely can't keep their notoriously fickle boosters in line. Remember when Red McCombs said Charlie Strong would be a good position coach and maybe a coordinator?  When those statements were made in 2014 Srong had almost the exact same resume as Herman does now, except he won two national championships working for Urban Meyer, not just one. The fuss was all because McCombs wanted Jon "Hasn't been relevant since 2002" Gruden.
And If Herman Does Leave?
Honestly I'm not worried if Herman does leave. Maybe that's naive but I'd be much more worried if Khator left or if Fertitta suddenly got bored being UH's sugar daddy. Every single top up-and-coming coach sees the potential of the University of Houston's football program after watching the past two seasons if they didn't see it already during the Briles and Sumlin eras. We've got some great in-house candidates who could pickup the mantle, like Todd Orlando, or we could snag another top assistant or head coach (not Lane Kiffin or Art Briles, pls).
Ultimately only Herman knows what he's going to do and it's useless trying to speculate or worry. In the meantime I'm sitting back and enjoying the ride being the scrappy little kid punching above his weight class. Focus on #1-0 each week and let's beat Navy!