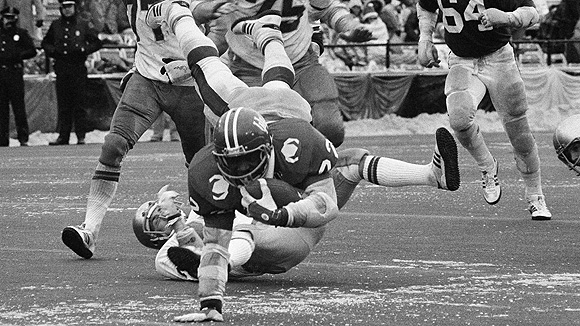 The Daily Cougar (sorry, I refuse to call it "The Cougar") does a nice write-up of the 1979 Cotton Bowl between Houston and Notre Dame. Check it out here!
Also, an interesting note from ESPN from the game:
Weather: Dallas is encased in an ice storm. Wind chill factor: minus 7

What happened: A few years back, we called this contest — "The Chicken Soup Game" — the third greatest bowl game ever. The contest was played in the Cotton Bowl's frigid, howling wind, and Notre Dame got off to a 12-0 lead in the first quarter. In the second and third quarters, Houston scored 34 straight points. Notre Dame team aides were in the locker room warming Joe Montana with chicken soup trying to help him combat the flu and hypothermia. Montana managed to warm up and came back late in the third quarter. In the fourth quarter he ran for one TD, passed for another as time ran out and also passed for two two-point conversions to lead the Irish to an extraordinary comeback victory. Montana recalled his feeling waking up on game morning to gaze upon a crystalline Dallas: "It was beautiful — beautiful if you were spending the day looking out a window." That's what most ticket holders did: The stands were more than half empty as a result of a record 39,500 no-shows.