After Tilman Fertitta made his Texas-sized statements last week about getting the Houston Cougars into the Big 12, a grassroots campaign has kicked off full-throttle to push the efforts forward. If you thought us Cougars were "all hat; no cattle", think again!
An awesome week for the Coogs!
First, The Sporting News wrote an excellent article helping make the case for the Coogs to join the Big 12, laying out how the scenario could unfold leading to conference expansion:
-A one-loss Big 12 team not named Oklahoma or Texas is snubbed from the College Football Playoff because of the lack of a conference championship game.

-Big 12 coaches preach about the need for playoff expansion, perhaps to six teams, while holding on to the "one true champion" flag.

-The Big 12 expands to 12 teams and adds a conference championship game.

The first two things already happened once, and they could just as easily happen again in 2015. And 2016. And … At that point you haven't learned anything. Houston is not-so patiently waiting. Do you even know what conference they are in? It used to be Conference-USA. Now it's the American Athletic Conference.

But the Cougars fit the "Bigger than a Group of 5" school profile. Art Briles won 10 games there in 2006. Kevin Sumlin won 13 in 2011. Houston just hired the nation's top assistant coach in Tom Herman, and the quarterback progeny runs from Andre Ware and Kevin Klingler to Kevin Kolb and Case Keenum. More often than not, Houston is fun to watch. Given a little more light, it's a program that can be more than just a stepping stone.

It makes sense to let them swing with fellow in-state schools Texas, Texas Tech, TCU and Baylor every year. If TCU and Baylor can do this, why not Houston? It also latches the Houston market to the conference, which makes sense.
And then the money quote:
[Critics might] cry that it waters down the conference. Look at what the Big Ten did with Rutgers and Maryland. [Coach Herman's] Ohio State beat those two schools by a combined 108-41 last season. What else did the Buckeyes do? They leap-frogged TCU and Baylor – who couldn't stop arguing about a 61-58 shootout and the merits of "one true champion" – in the final College Football Playoff standings.
Painting Austin Red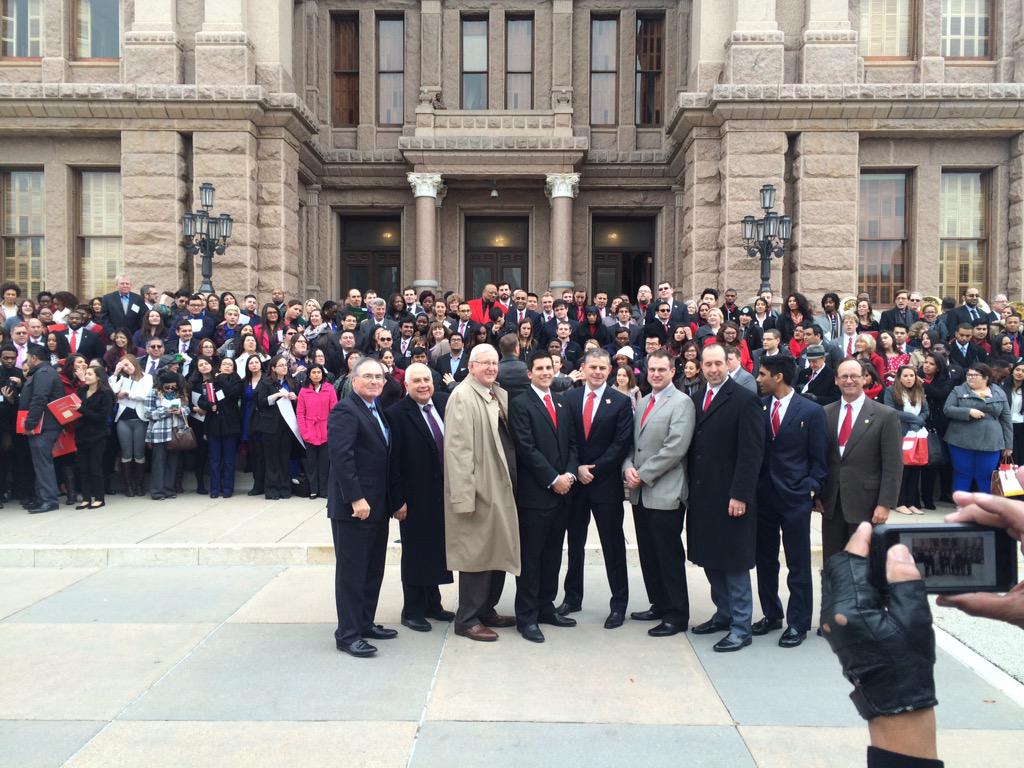 On Monday many powerful Cougar administrators, coaches, students, and alumni were in Austin for UH System Day. According to The Cougar:
…students and alumni lobbied for some of the University's biggest legislative goals… but one subject near and dear to Texans' hearts came up throughout the lobbying: football. Representatives of the University were vocal about UH's ambitions to become part of the Big 12 Athletic Conference.
Then on Tuesday this week the Austin American-Statesman wrote an excellent article behind UH's efforts to play on a larger stage. Some money quotes:
Houston isn't interested in the status quo. In terms of conference status and recent history, it's a second-tier athletic program with first-tier ambitions. It's on the move and just landed a first-tier head coach who combines smarts with top-level experience and a fiery drive that should propel the Cougars to the next stage.

The school in the nation's fourth-largest market that competes in the under-the-radar American Athletic Conference is hoping to parlay this latest acquisition with a renewed commitment to athletics, as well as academics, as part of Houston's quest to go big-time and draw interest — no, draw a concrete invitation — from the Big 12 or any of the other Power Five conferences.
And:
Through the dynamic leadership of school president Renu Khator and athletic director Mack Rhoades, the Cougars are making every right move. They sank $120 million into a sparkling new 40,000-seat stadium. They gained Tier One academic status in 2011. They've raised $100 million in private donations since 2009. They made the best offseason hire this side of Michigan, which stole Jim Harbaugh from the NFL.
And:
Hiring Herman was a stroke of genius. Texas' Charlie Strong strongly considered hiring him as his offensive coordinator before bringing along Shawn Watson, and Herman has rejected multiple head coaching offers before.

The Cougars couldn't have scored a bigger hit unless they landed Urban Meyer himself. Herman's not yet 40, but has a wealth of experience in apprenticeships under everyone from Meyer to Mack Brown to David Bailiff. He was waiting for a plum job like the Cougars' spot and has hit the ground running.
Yesterday Chris Low from ESPN wrote an excellent article on the best college football coaching jobs among the "Group of 5" (the schools in non-major conferences).  This list could also be read as "The Five Football Programs Most Likely to Join a Power 5 Conference". UH made the top five along with Boise State, BYU, Cincinnati, and UCF. I doubt Boise or BYU would be strongly considered for the Big 12, Pac 12, or ACC… the three most likely conferences for UH. Our main competition for a bigger conference is Cincy and UCF. I think the Big 12 adding UH and Cincy would be a smart move. UH bringing in tons of local fans and Cincy brings a strong natural rival with West Virginia.
But, Mr. Peabody, what can I do for the cause?
Well Sherman, it's a good question!  I've been thinking: Perhaps Mr. Fertitta is a very shrewd man. Maybe, just maybe, he got to be a self-made billionaire entrepreneur by being able to read the tea leaves and he knew that by pushing the envelope he could get a ball of momentum going that will propel UH into a larger conference.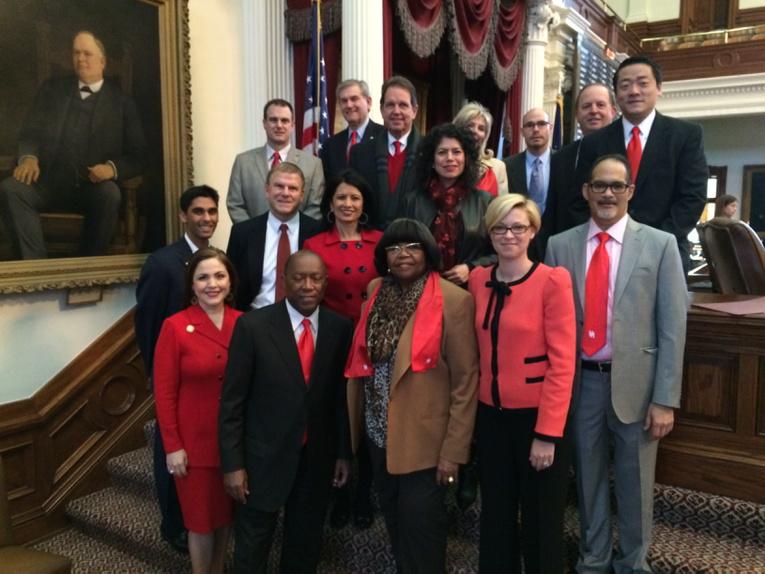 Just look at that above photo of President Khator on the floor of the Texas house members. Madam President doesn't seem to be shying away from Mr. Fertitta's comments, in fact, she's standing right next to him!
My fellow Coogs, we can get this done! But we need your help. Please get season tickets and go to our sporting events. Wear your Red and White and cheer for the Coogs as loud as you can!
Also, be sure to help us take the fight to social media. Some groups that you should follow to help support the cause:
Let's get 'er done Coogs! Here's our UH Fight song to help: